Paiboon Nalinthrangkurn, Chairman of the Federation of Thai Capital Market Organizations (FETCO), made the following comments about the September 2018 FETCO Investor Confidence Index (ICI):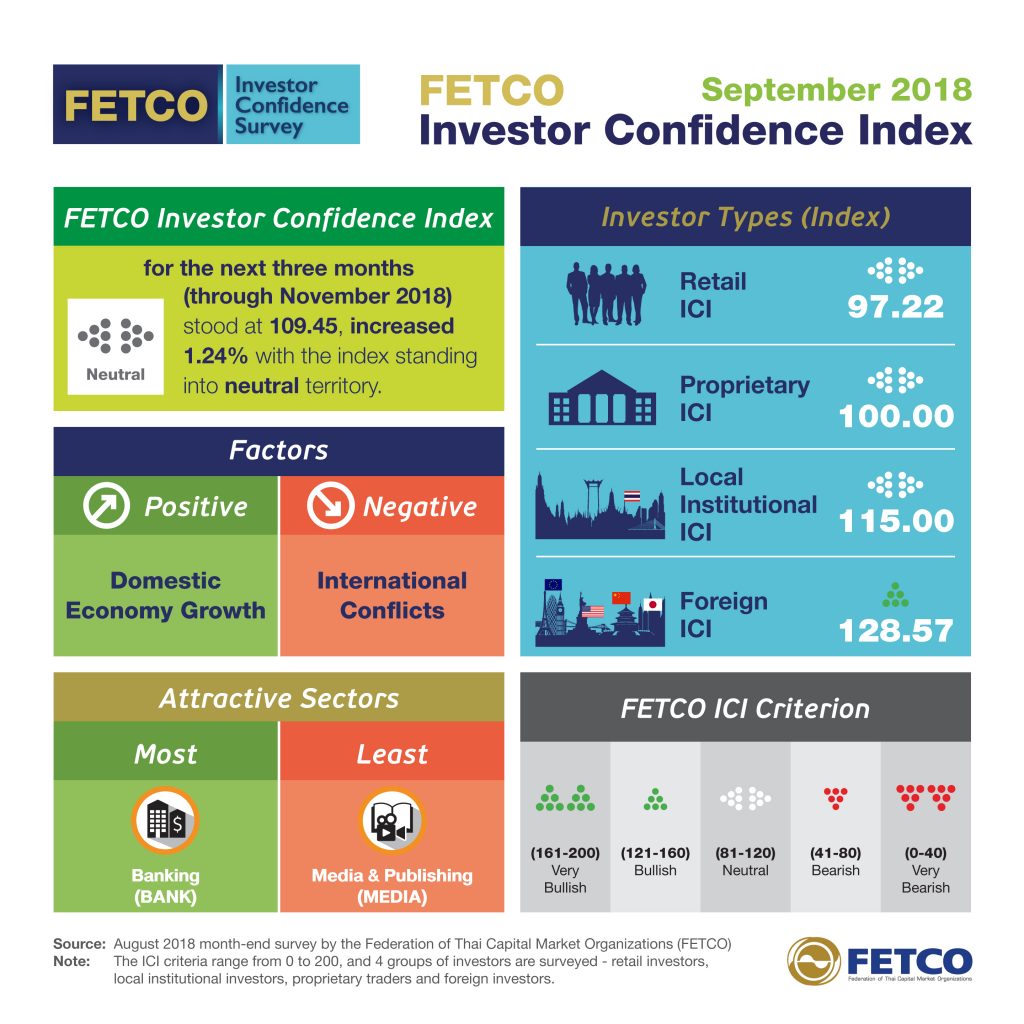 Results of the FETCO Investor Confidence Index for September 2018 are summarized below:
FETCO Investor Confidence Index (ICI) for the next three months (through November 2018) increased slightly to 109.45 (1.24%) and remained in the neutral range of 80–120.
Foreign investor ICI fell slightly from the previous month but remained within the bullish zone.
ICIs for local institutional investors and retail investors increased while proprietary traders' ICI was unchanged. All three groups remained in the neutral zone.
The Banking (BANK) sector was seen as having the most attractive investment opportunities.
Media & Publishing (MEDIA) drew the least investor interest.
The factor having the greatest positive impact on the Thai stock market was the domestic economy.
International conflict was the biggest drag on the Thai bourse.
"During August, the SET index was relatively stable moving between 1680–1720 points after having recovered in July.  The SET Index moved towards the 1720 level at the end of the month as foreign investor net selling fell for the third consecutive month (following May's high foreign investor net sales).  Domestic GDP continued to expand in Q2, and listed companies posted satisfactory second quarter earnings.  For investment trends over the next three months, investor confidence is boosted by the Thai economy and the performance of listed companies.  However, investors continue to monitor the direction of trade negotiations between the US and its trading partners after the implementation of trade barriers and increased tariffs. Investors worry whether there will be a relaxation in the current trade wars or whether negotiations will provide a lasting solution.  Also of concern is the related impact on the global economy, especially in emerging markets such as Turkey, which has been impacted by tariff increases and declining currency values.  There is also the fear that if the international trade conflicts intensify the global economy will slow down.  Another important point to consider is the direction of US monetary policy and the expected two interest rate increases this year, which are a result of the growing economic strength of the United States; meanwhile China's and Europe's economies are slowing down.  European monetary policy will likely keep interest rates unchanged throughout the year, while the direction of China's economic policy will depend on the ongoing trade war. Moreover, fluctuations of the US dollar will further impact regional economies."